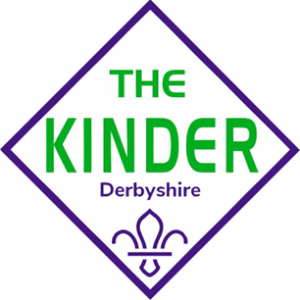 Both routes are covered by OS 1:25000 Explorer maps (OL 1)
Route shown is NOT for navigational purposes.
Derbyshire Scouts accept NO responsibility if it is used
Teams book in and are inspected at Chapel-en-le-Frith, where both events start and finish.
The Extreme route heads up to Sheffield Road via Brown Knoll to Jacob's Ladder, Kinder Downfall, William Clough, Hayfield and back to Chapel via Throstle Bank. The Challenge goes via Throstle Bank, Peep O Day, Shake Holes and via Slackhall back to Chapel.
Checkpoint Locations
Checkpoints are sited at strategic locations along the route where drinks may be obtained and supporters can check on their teams progress. It also enables us to monitor times and be assured of the teams progress on the day.
| Checkpoint | Location | Grid Ref | Refreshments |
| --- | --- | --- | --- |
| Start - Chapel | 1st Chapel Scout HQ | 060 806 | Yes |
| Sheffield Road | Car in lay-by | 091 824 | Yes |
| Jacob's Ladder | Tent near to path junction | 080 861 | |
| Kinder Downfall | Tent near to the Downfall | 083 889 | |
| William Clough | Tent near to path junction | 064 900 | |
| White Brow | Tent near pathway | 049 883 | |
| Hayfield | Scout HQ Swallowhouse Lane | 035 872 | Yes |
| Throstle Bank | Car near start of track | 030 832 | Yes |
| Finish - Chapel | 1st Chapel Scout HQ | 060 806 | Yes |
| Checkpoint | Location | Grid Ref | Refreshments |
| --- | --- | --- | --- |
| Start - Chapel | 1st Chapel Scout HQ | 060 806 | Yes |
| Throstle Bank | Car near start of track | 030 832 | Yes |
| Peep O Day | Car on track before junction | 048 850 | |
| Shake Holes | Land Rover | 066 842 | |
| Slackhall | Car on triangle near Chestnut Centre | 075 819 | Yes |
| Finish - Chapel | 1st Chapel Scout HQ | 060 806 | Yes |