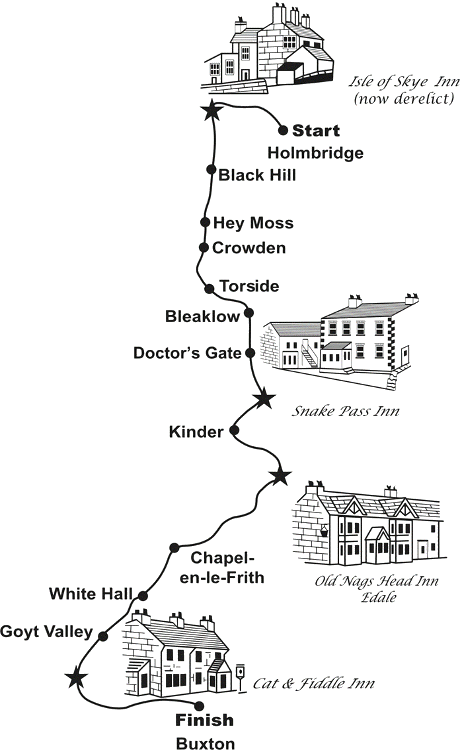 60 Years of the Four Inns (1957-2017)
This year the Four Inns, regarded by many as the premier Scout organised distance event, celebrates its Diamond jubilee. The event was established in 1957 by members of the 51st Derby (St Lukes) California Rover crew.
To commemorate our 60th year, we have received a letter of congratulations from Tim Kidd (UK Chief Commissioner) and even HRH Queen Elizabeth
The event covers approximately 65km over some of the roughest moorland in Britain and takes its name from the Four Inns along its route; The Isle of Skye (site of), the Snake Pass Inn, the Nags Head and the Cat and Fiddle. The event has evolved over the years and is held in the highest regard by all competitors, be they the 6 hour 38 minute winning team or the 22 hour 30 minute team, who are over the moon having completed such a challenge. All of them comment on the friendliness and support offered.
A loss of life in 1964 was the catalyst for the formation of the Derby Mountain Rescue Team, the team originally being a Derbyshire Scout fellowship. The Peak District Mountain Rescue Organisation was also formed at the same time. Derby Mountain Rescue Team and, since 2015, the Buxton team are an integral part of the event ensuring the event is as safe as possible.
The 35k event introduced in 2015, aimed solely at members of Scouting and Girlguiding has proven a great success. Look for the changes in the team criteria this year in response to your requests. Early booking for both events is recommended.
Derbyshire Scouts are proud to organise and run this challenging competition and look forward to it celebrating another 6o years.
Myself and the organising committee look forward to seeing you and hope you have a challenging but rewarding day.
The Next Event
The date for the next event is 24th March 2018 ()
2018 Handbook
The 2018 handbook and booking details will be available after the 1st December 2017
Click to download the 2017 Handbook for more information about the event