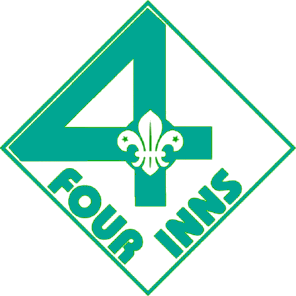 Four Inns 2023
As you will know, the Four Inns event became difficult to run for several reasons and there were questions as to whom the event was being run for...
However, the committee were not ready to walk away and are now delighted to share with you - The Kinder Elite, a brand new event aimed at Explorer Scouts, Ranger Guides and adult members of Scouting & Guiding.
It will be a one day event, relevant, challenging and affordable for Scout & Guide participants. Due to close links with the successful Kinder event the new event is designed to be an attractive & exciting next step up from the Kinder Extreme. As we bring the event back to scouting & guiding we would very much appreciate your help and support to make it a success.
Thank you very much to ALL those who have supported and taken part in the Four Inns over the years.
And I will end with a quote from our County Commissioner, Sue Harris:
We can hold memories in our hearts but we have to change. Do not mourn the loss of 4 Inns, celebrate its success and be glad that the committee are trying to provide an event that will encourage young people to take part in competition walking
All the very best for the future. Wherever your walking or running activities might take you.
Note: This area of the website site will remain active, for historical results, etc., but The Kinder pages will now be the main place for all ongoing events and updates
Jon Rice
Chair of the Four Inns Committee