The Four Inns (1957-2018)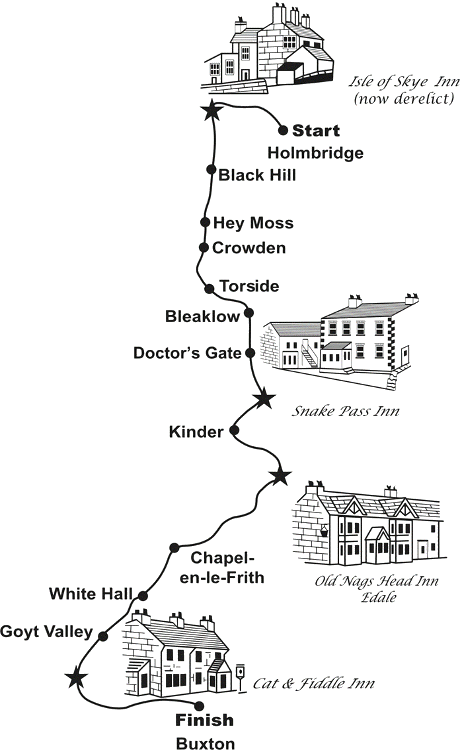 The Four Inns, regarded by many as the premier Scout organised distance event, celebrated its Diamond jubilee in 2017, having been first run in 1957 by members of the 51st Derby (St Luke's) California Rover crew. Today it is a flagship event run by Derbyshire County Scout Council. The organisation, running and manning the checkpoints on the day is all done by volunteers.
The event itself covers approximately 65Km over some of the roughest moorland in Britain and takes its name from the Four Inns along its route; the Isle of Skye (site of), the Snake Pass Inn, the Nags Head and the Cat and Fiddle.
The event has evolved over the years and is held in the highest regard by all competitors, be they the 6 hour 38 minute winning team or the 22 hour 30 minute team who are over the moon having completed such a challenge. All of them comment on the friendliness and support offered.
A loss of life in 1964 was the catalyst for the formation of the Derby Mountain Rescue team, the team originally being a Derbyshire Scout Fellowship. Derby Mountain Rescue team and, since 2015, the Buxton team are an integral part of the event, ensuring the event is as safe as possible.
We are very conscious of our history and I am minded to remind all entrants of the need to practise your map reading skills and to try to get at least one training session on some or all of the route to familiarise yourself with the terrain. Each year we get a team or two making some very basic mistakes.
Derbyshire Scouts are proud to organise and run this challenging competition and look forward to its continued success.
The organising committee and I look forward to seeing you and hope you have a challenging but rewarding day.
The Next Event
The date for the next event is 6th April 2019 ()
2019 Handbook
The 2019 handbook and booking details will be available after the 1st December 2018
Click to download the 2018 Handbook for more information about the event