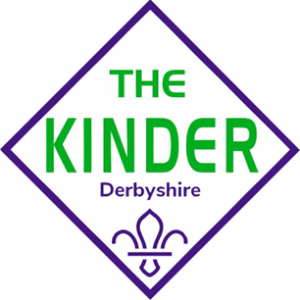 Welcome to the Kinder Walk website
The Kinder Walk, consisting of two walking/running events, is organised on behalf of the Derbyshire County Scout Council and is open to all members of the Scout and Guide Associations, subject to the various trophy categories.
The Kinder Extreme is approximately 30km and the Kinder Challenge is around 16km. The Extreme is aimed at older Scouts, Explorer Scouts, Guides and members of Scout Network. It is a challenge of map reading and stamina in this exciting and rugged area of the Peak District.
The Kinder is a team event for teams of between 4 and 6 (see Trophies and eligibility for details). Times vary between 3 and 8 hrs
Navigation
Leaders should be aware, and are reminded, of the need for all members of the team to be able to read a map and navigate - it is not a signposted route!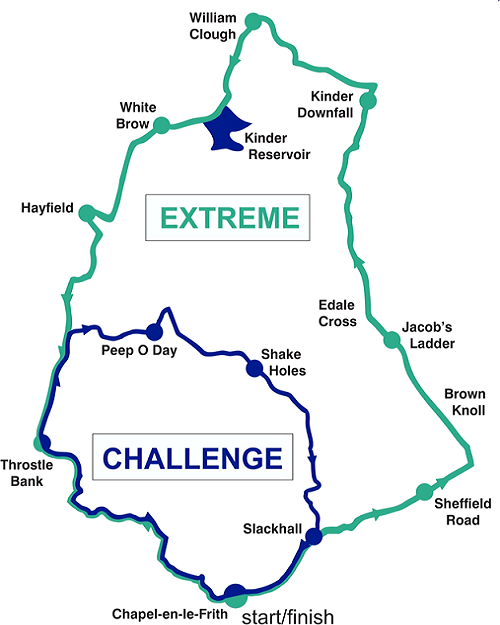 Kinder Walk Origins
The first competition was held in October 1967 for the newly formed section of Venture Scouting. It was organised by the then Blagreaves Venture Scout Unit for Venture Unit teams from the Derby Area. There were a total of seven teams took part, with the winning team being Derwent VSU in a time of 7 hours 56 minutes.
The route was a circular one of 26 miles starting and finishing at Chapel en le Frith by way of Edale, Kinder, Hayfield, Buxworth and Combs. The weather for this first event was rain, rain and more rain!! The entry increased in 1968 to eleven teams with entries invited from beyond Derby, even one team from Huddersfield. Winners that year were Derwent 'B' team in a time of 9 hours 31.
In the early years the route was not disclosed until the day of the walk, a different route being used each year. After a lapse of two years the event was resurrected in 1993 using basically the same route we have today. Over the years the trophy categories and their eligibilities have changed, the current categories reflecting the changes in age ranges in the Scout Association.
In 2008 we introduced the Kinder Challenge in an effort to encourage the younger members both into walking in the Peak and to participate in competitive walking events.
In 2016 and 2017 we made a major change to the Extreme route, starting and finishing at Chapel, heading up to Sheffield Road. The route then goes via Brown Knoll and on to Jacob's Ladder picking up the original route to Hayfield. It then takes the Challenge route via Throstle Bank back to the Finish at Chapel.