What Archery offers

This information is intended to help Leaders who would like to arrange Archery for their section. It also has information for Leaders/Adults who would like to get involved with this activity.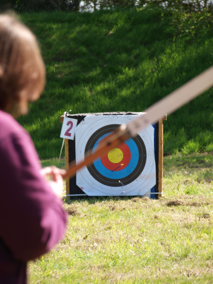 Based at Drum Hill Campsite, the Archery team is staffed by volunteers from around the county and beyond. All our instructors are trained to Archery GB standards. With both indoor and outdoor ranges available, we offer the chance to experience archery at any time of the year.
Archery can be provided for all Scouting sections (except Squirrels). See full list of sections and any restrictions for this activity, towards the bottom this page. We have a comprehensive supply of archery equipment and we ensure the correct equipment is used from Beavers to Adults. Bookings for our younger sections we will try and increase the number of instructors, so we ideally have one to one instructor.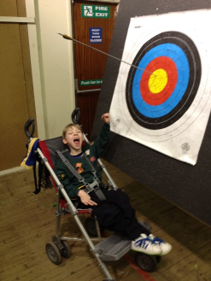 Archery is a fully inclusive activity and can be enjoyed by everyone. It is very helpful for the instructors to know in advance, if a group has any additional needs. This really helps the instructors and ensures they are better prepared to deliver your activity session.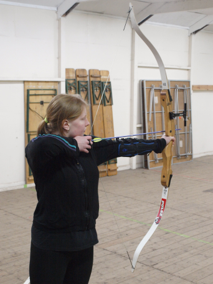 Each session contains the following elements:
• safety briefing and fitting of safety equipment
• demonstration on how to shoot
• throughout the session, coaching and advice will be offered to improve participants enjoyment


Leader Information
Scout HQ has provided section Leaders with this helpful information around archery
It also lists some badges that archery can count towards
Click here to view photo's from recent Archery sessions/events

Dress appropriately for the time of year
Avoid wearing clothing with large buttons or anything that can catch in the bow
Long hair must be tied back
No open toed shoes allowed (Crocs/sandals etc.

For bookings, click here
To contact the archery SASU, click Archery Team

Group sizes are from 6-18, 18 being the maximum

A session normally runs for 1 hour but this can be extended if you want to shoot more arrows.

Click here for Drum Hill location details

Click here for current prices
Additional Information
Click here for instructor's chat room. NOTE: this is a closed group, if you a not a member, you will not be able to view this content.

To contact county archery advisor, click Archery Team

Click here to view POR relating to this activity

Click here to view current Factsheets

Archery GB is the National Governing body for this sport.
Click here to visit their website.
Events Archery Team supports
Activation
Big Shoot
Peak Camp
Rampage
Spring Bank Camp
Steve Nunn, Tim Roast
Archery Team
Sections supported
| Section | Eligible | Notes |
| --- | --- | --- |
| | | |
| | | We try our best to have one to one instructor, when Beavers do Archery. |
| | | |
| | | |
| | | |
| | | |
| Adults / Leaders | | |