Not receiving the newsletter? Click
here
to register a profile and sign up to receive newsletters direct to your inbox!
September 2022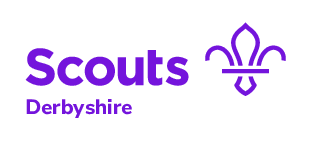 Back to school and for many a return to Scouts after a short break for the summer but for others there has been no break with some amazing international trips including the two county explorer belts and lots of people camping in Derbyshire - our county campsite, Drum Hill has remained busy throughout the summer. Thank you to everyone who has chosen to spend some time giving young people experiences they will not forget.
There are lots of ways to say thank you and although most of us don't look for rewards, a timely thank you is always appreciated and there are lots of different ways to recognise contribution and say thank you to volunteers for their contribution. If you know someone who you think deserves recognition for what they do, check out the Scouts website Awards and recognition | Scouts and then get in touch with our Derbyshire Awards team who will be happy to help you. You can contact them by emailing awards@derbyshirescouts.org. Very often, it is the people who are always there in the back ground that miss out on awards so please let us know if you know someone.
If you are looking for more adults to help run your group, there is lots of information and tools that you can use at Ready to recruit | Scouts. There are no magic answers to recruitment, often the best thing to do is ask and be clear what you are looking for. We still have a few roles that we are looking to fill in the county, you check out current vacancies in this newsletter or on the website.
We also recently had the pleasure and privilege to host Liz Fothergill CBE (Lord Lieutenant of Derbyshire) and Brell Ewart (Deputy Lord Lieutenant) for a tree planting at Drum Hill Scout Camp as part of the Queen's Jubilee Canopy.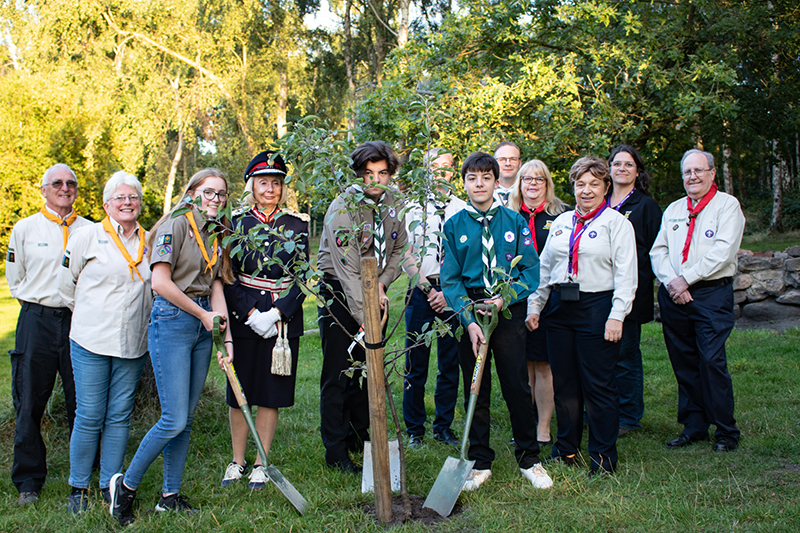 Finally, a massive thank you to everyone who completed our communication survey. We are delighted to announce that from October we will be running a termly county call where you can meet the county team and ask questions. You will find more information from Colin in this newsletter.

SUE HARRIS
County Commissioner
Derbyshire Scouts
County Vacancies
County Commissioner
District Commissioner - Ilkeston
District Commissioner - Derby East
District Commissioner - South Derbyshire
District Commissioner - Derwent & Dove
Programme Team
ACC (Beaver Scouts)
ACC (Cub Scouts)
ACC (Scout Network)
ACC (Top Awards)
Inclusion Team
Inclusion Advisors
Communications Team
Newsletter Editor
Training Team
LTM (Peak)
LTM (High Peak)
Activities Team
Administrator - Archaeology SASU
SASU Members - Various SASUs
Assessors - Various Activities
(contact Activities Team for Details)
Application Packs are available from the County Website
Available Grants
The latest list of available grants (information gathered from the various CVS Organisations) can be found
HERE
.
Upcoming County Events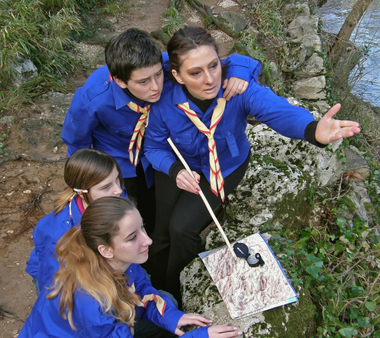 Border Hike
Back by popular demand, Border Hike will be running from Gradback Scout Camp again 23rd - 25th September 2022..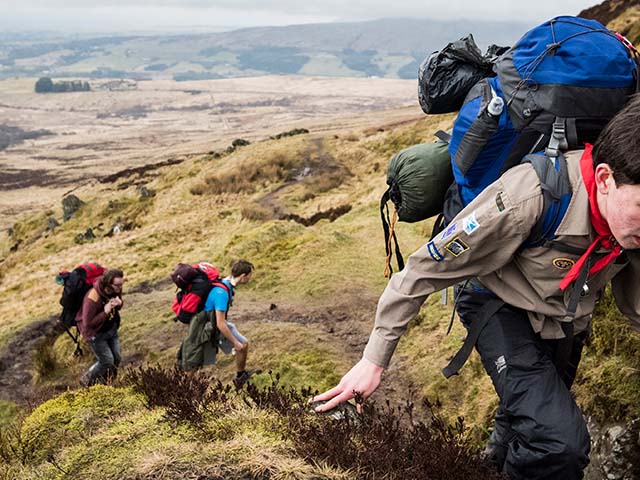 Kinder Walk
Kinder Walk will be running again this year, 9th October. If your group needs training, there are opportunities available, details online. BOOKINGS NOW OPEN!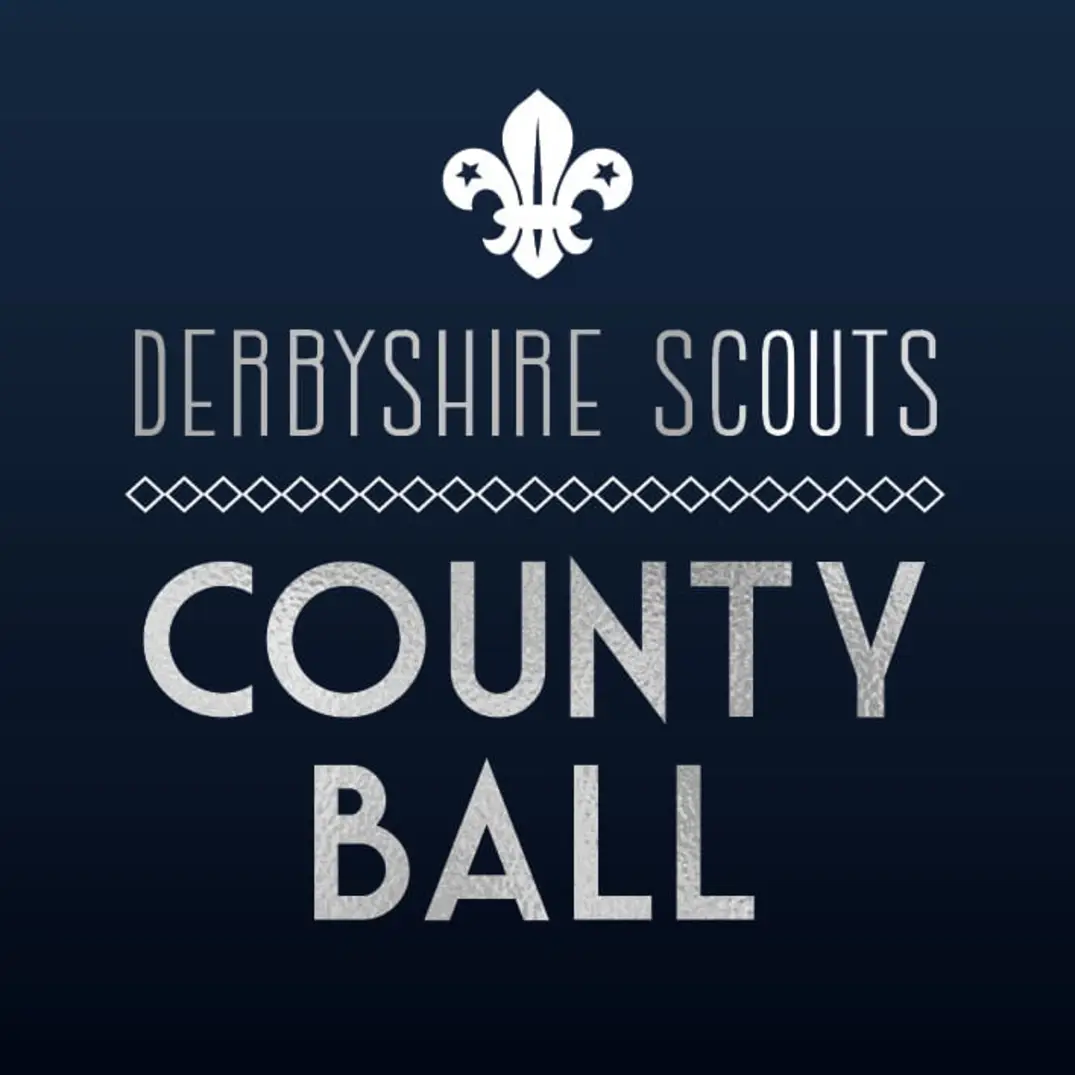 County Ball
A chance to dress up for a great night out. Bookings Open on 5th September 2022.
News from the Programme Team
It is with great pleasure that I announce Jo Wilson has joined the team as Assistant County Commissioner - Young Leaders. Jo brings much knowledge and experience when it comes to her support for Young Leaders and I know that there are plans afoot to help support our future adults in Scouts across the county especially with regards to the training scheme so please look out for these opportunities. She's already hit the ground running, having been invited to present Young Leader badges in Alfreton District. Jo can be contacted at acc-youngleaders@derbyshirescouts.org
There have been many fabulous events taking place over the last few months and certainly since the last newsletter.
Over the first weekend in July "Activation" took place near to Carsington Water. The event is a brilliant opportunity for Cubs and Scouts to experience many activities that may not normally be available to our young members. Activation is supported by many of our Active Support Units who do an awesome job and the weekend is carefully organised so each day can be delivered without the need for leaders to be present. Take a look below to see just a few of the many things on offer.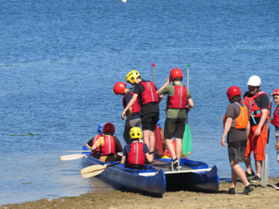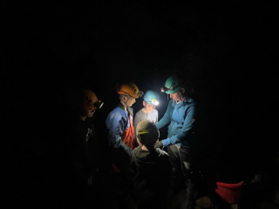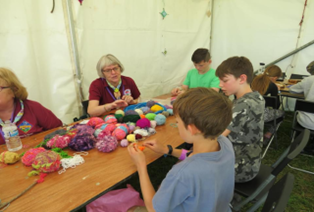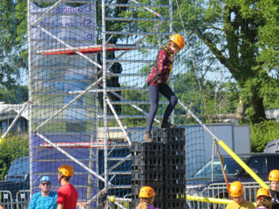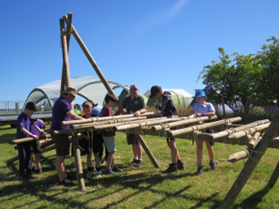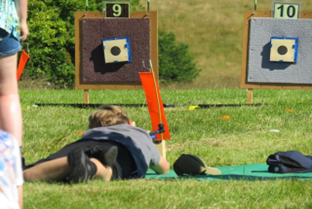 Whilst visiting the Cromford Steam Festival in August it was great to be greeted by so many members of Loscoe, Holymoorside and Chesterfield Scouts supporting this large event organising the parking and at the entry gate. This is a huge event that raises much money for local charities meaning this type of thing is a great way of advertising how flexible Scouts are alongside being a great way to raise funds. As you can see there was also time to enjoy some of the activities alongside the serious business of keeping the general public under control.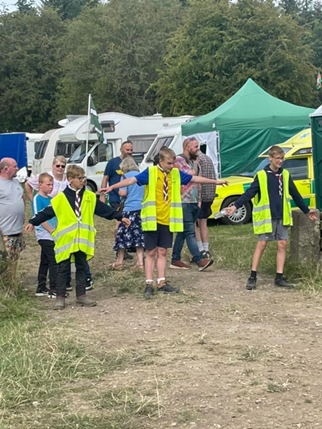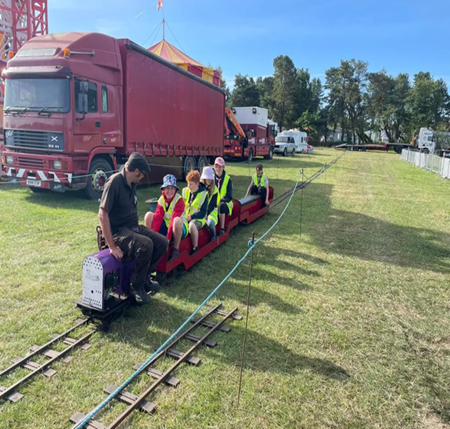 I had the privilege of acting as the "home contact" for our two Explorer Belt expeditions taking place during the holiday in August. For those who don't know about The Explorer Belt it is an award available to the Explorer Scout and Scout Network members lead by an adult team. The expedition always take place in another exciting country and presents the opportunity to gain some really unique experience. Each expedition involves many activities and especially engagement with and getting to know local people. Our two groups bought together young people from across the county who didn't know each other beforehand.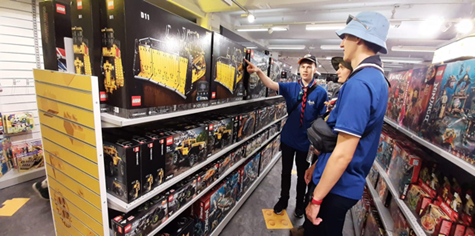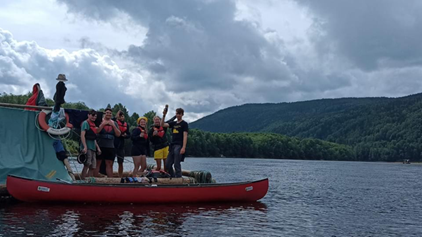 One team headed to Scandinavia (Norway and Sweden) for a rafting expedition (see above) and the other to Tuscany (Italy) for a walking focussed event (see below).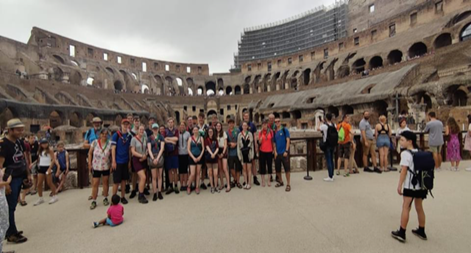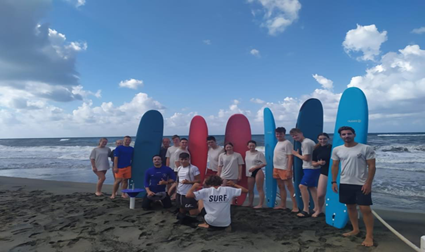 Both teams had an incredible time, working in teams, developing resillience, overcoming challenges, stretching thinking and engaging with local Scouts in the respective countries.
I'm sure that each team would be happy to share their experiences if you want them to visit your group. A full report from each explorer belt will appear on the county website before the end of September.
Scheduled Meetings
Thursday, 29th September, 19:30, ACC (Sections) Team Meeting
I will be scheduling meetings with the Asst. District Commissioners from Beaver Scouts, Cub Scouts and the Scout Network before the middle of October. The focus of the meetings will be to check on progress for County Activities for each section.
As always, if you would like to contribute anything then please get in touch, gyles.wren@derbyshirescouts.org or 07795347299.

GYLES WREN
DCC Programme
Derbyshire Scouts
News from the Communications Team
County Call
Firstly, I would like to echo Sue's thanks to all those who completed the county communications consultation. We got some really good feedback, and now we'd like to close the feedabck loop off by reporting back to you. We are really excited to be able to start a termly County Call. This is your opportunity to find out what's going on and ask us questions or raise any concerns that you have. This will be online via Microsoft Teams, and we'll always offer two dates (so that no-one is excluded simply because "that night" is your normal Scouting night) - it'll be the same information presented on of the calls and as well as answering questions (as far as we can) during the call, we'll publish answers to any questions that are asked on the website aftewards, so that everyone gets the same information at the same time.
When: Tuesday 12th October or Thursday 20th October
Where: Microsoft Teams
We'll email out details of how to register (registration will get you the link for the meeting) by the end of this month - but please put the date in your diary. The email invitation will also include how to submit any questions in advance and a short agenda of what will be presented during the call.
Newsletter Editor
I'm still looking for a newsletter editor, so if you are interested (or know someone who might be), please get in touch (communications@derbyshirescouts.org).
Best Wishes,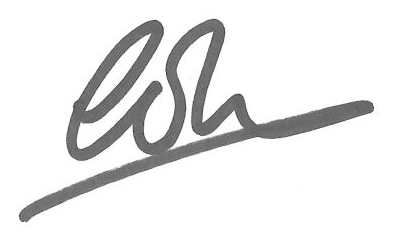 COLIN SLATER
DCC (Communications)
Derbyshire Scouts
Transformation
In order to support recruitment of new volunteers and to continue to make Scouting as accessible as possible, there will be some changes coming over the next few years as part of the Vision 2025 Strategy.
These will focus on 4 areas:
'A warmer welcome for everyone'. Changing the joining process so new volunteers are given clear guidance and support to get started on their Scouting journey.
'Simplifying volunteering with new roles and structures'. Moving towards a team based volunteering to utilise our members skills and backgrounds.
'Digital transformation for everyday Scouting'. Developing online resources and databases to support Scouting.
'A more engaging learning experience'. Supporting our volunteers through learning and development, which is online focused (but not solely online) with learning which is flexible and role focused.
As it is early in the process, specific details have not been published yet but we wanted to let you know about the transformation coming. More information and details will be published by HQ over the coming months.
What do we need to do now? The changes won't commence until May 2023, so very little!
Please make sure your Compass record is up to date with a valid email address, ready for the transfer of information to a new adult record system next year.
Watch this space for more information!
See the Scouts Testing Hub for initial information and to give feedback on the resources available at https://www.scouts.org.uk/about-us/testing-hub
In the meantime, if you have any questions please contact me kiron.griffin@derbyshirescouts.org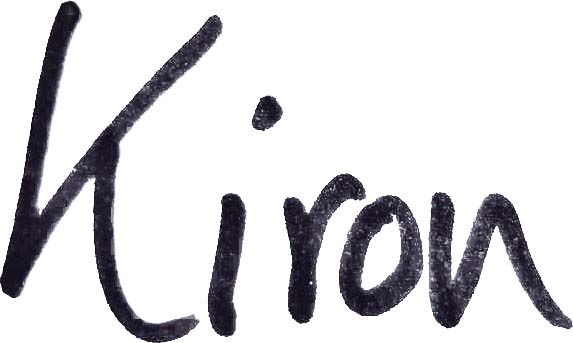 KIRON GRIFFIN
DCC (Support), Transformation Lead
Drum Hill Reception Team - Would you like to join the team?
The age-old question 'Do you have any spare time?'. But genuinely, if you do, we are looking for more volunteers to give up just one morning or one afternoon a month (more if you'd wish/are able) to become part of the Drum Hill Reception Team.
Duties involve – meeting and greeting leaders, parents and young people and directing them to their pitches, buildings etc., selling badges, pitch/building inspections before campers leave.
We always like to have two people on duty and will pair people up where necessary. We very much welcome spouse, partner or friendship teams!
Why not combine being on reception with your Scouting admin tasks? We offer a base where, when not busy doing the above, you can log on to the computer and catch up on any of your scouting paperwork or use our facilities to have a meeting with Scouting colleagues.
Shifts are Saturday and Sunday Mornings (8.30am – 12 noon), Saturday Afternoons (12 noon – 4pm) or Sunday Afternoons (12 noon - 3pm). We use Doddlepoll to organise who's available when and have a WhatsApp group to keep in touch with each other for updates etc
For more details or to simply have your name added to the team communications, please email claire.greaves@derbyshirescouts.org with your contact details.
Belper Scouts Supporting Local Pride Event
Belper District Scouts took part in the Pride In Belper Parade for the first time, it was an amazing event enjoyed by all who took part. 1st Alton Manor Scouts had a very successful fundraising stall at Pride In Belper, selling a range of homemade craft items made by the scouts and their supporters. We are fundraising to attend Haarlem Jamborette 2023 with over 3000 international scouts near Spaarnwoude in the Netherlands. It promises to be twelve days full of great Scouting activities, meeting new friends from more than 25 different countries, and of course fun festivities in between to remember forever.
"Pride was an amazing day, we spent time weeks before making things to sell on the scouting stall. All the money we wanted to raise was towards our scouting Haarlem trip in August 23. The atmosphere and the parade itself was a great experience. Seeing people so happy and enjoying themselves was the best part of the day." Isobella (Belper Scout)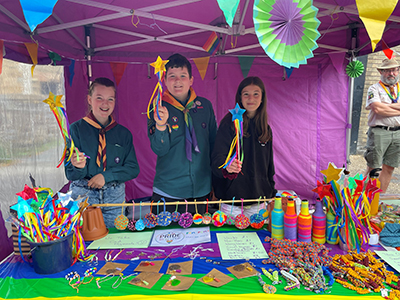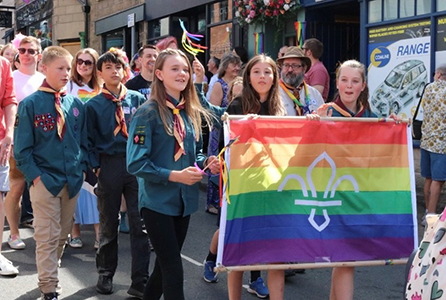 "Pride events are very important to show the haters that everyone is the same, no matter what they look like, what their serial orientation is or what they look like. She thought the drag queen's were amazing. Looked great and were so much fun. Alton Manor were involved in the parade and were selling homemade bracelets, pom poms, keyring and sweets from the stall and also walking around town. We are raising money for an Haarlem International camp in Holland next summer." Emily (Belper Scout)